Celebrate Their Bar Mitzvah with a Day of Dedication
A CELEBRATORY Bar Mitzvah gift with DEEP meaning.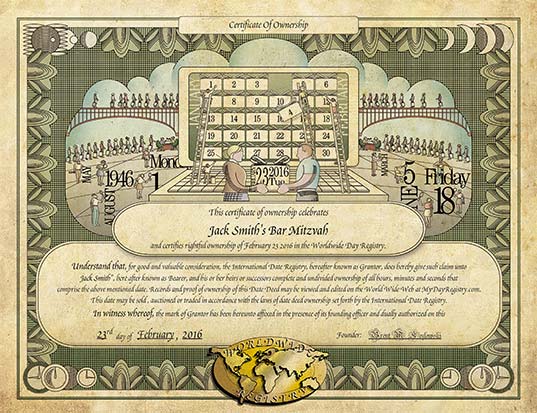 Start Here - Enter the Date of the Bar Mitzvah:
Dedicate a day in honor of a special event or person in your life.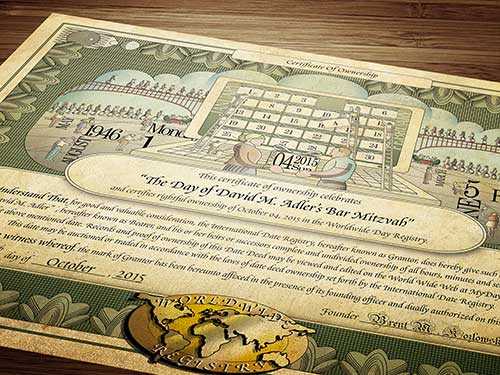 Certificate of Ownership
When you dedicate a day to honor a young man's Bar Mitzvah, you'll receive a certificate printed on beautiful, high quality parchment paper. Personalized with elegant modern calligraphy, this certificate serves as proof of exclusive ownership of your newly dedicated day.
Personalize Your Certificate
Your certificate can be personalized to anyone's Bar Mitzvah. Add a customized title and include your gift recipient's name to create a deeply meaningful Bar Mitzvah gift.
Personalized Dedication Page
Your day of dedication also includes an online dedication page that can be personalized with pictures, video, music and more.
Use the dedication page to share biblical passages, blessings, and photos from their Bar Mitzvah festivities.
Register today and get instant access! Access to the dedication page is granted the moment you register your Bar Mitzvah. This allows you to have FUN personalizing the page while you wait for the certificate to arrive.
Share Your Page
Share the Bar Mitzvah page you created with family and friends! They'll appreciate being a part of your Jewish celebration and sharing in blessed memories.
AS SEEN ON


Exclusive Ownership Rights to Your Day
Every owner's exclusive title and ownership rights are recorded in the International Day Registry database to ensure there is only ONE (1) registry owner per day.
When someone searches for the same date as your Bar Mitzvah, they'll see the day is already dedicated and owned by your gift recipient. Just one more reason dedicating a day to that young Jewish man makes a truly unique and memorable gift!
Check if Your Bar Mitzvah Date is Available
Checking the availability of your honorary date is fast, easy, and FREE! Simply enter the date into the search box to perform a quick registry search.
Exclusive Ownership Rights
Every registered day is recorded to ensure there is only ONE (1) registry owner per day.
Why Dedicate the Day of a Bar Mitzvah?
A Bar Mitzvah celebrates that special day in every young Jewish man's life when he vows to observe the commandments of the Torah. It's a once-in-a-lifetime event that deserves a deeply meaningful gift.
Dedicating a day in recognition of someone's Bar Mitzvah will not only preserve special memories from their celebratory event, but also provide a reminder of the commitment and responsibilities of his Jewish heritage.
How Does Your Achievement Gift Work?
Dedicating a day through MyDayRegistry provides a unique and celebratory Bar Mitzvah gift with deep meaning.
Upon registering your Bar Mitzvah with MyDayRegistry, you'll receive an elegant paper certificate that is personalized to your celebratory Jewish event. You'll also receive instant access to an online dedication page that you can personalize with photos, video, music, and biblical passages.
Your paper certificate is perfect for framing and giving as a wrapped gift to your Bar Mitzvah recipient. Your dedication page can be used to express your love and blessings as well as share photos, a video, and a traditional Jewish song with family and friends. Both will serve as a meaningful reminder of that once-in-a-lifetime event.
When you register the date of someone's Bar Mitzvah with MyDayRegistry, you can make your gift recipient the exclusive owner of their honorary day in a registry of your choice. No one else can claim their day, it will remain theirs FOREVER. It's like preserving and dedicating a piece of history for generations to come!
What If Your Day Is Already Taken?
It can be disappointing to see that your Bar Mitzvah date is already taken. But there are ways around this, you just have to get creative!
For example, you could dedicate the day the person was born, the birth date of a significant person in their life, or another day that holds special Jewish meaning.
Another option is to register your date in a different registry. We have three registries to choose from: State, Country, and Worldwide.
Our State registry allows you to dedicate and register a day in 1 of 50 states in the USA. Our Country registry allows you to claim a day across an entire country. Our most exclusive registry is our Worldwide registry. Claiming a day in this registry gives that special someone ownership rights across the entire planet!
Maybe your loved one is celebrating his Bar Mitzvah in a different state than the one he was born or lives in. Or perhaps they're traveling to Israel to celebrate. Or maybe their Bar Mitzvah is worthy of a worldwide dedication. With a little creativity, you're sure to find an option that works for you!
How to Dedicate Their Bar Mitzvah as a Gift
Dedicating a day in honor of someone's Bar Mitzvah as a gift is simple! Just follow these 3 easy steps . . .
Check If Your Date is Available: Enter the date of the Bar Mitzvah in the search tool at the top or bottom of this page. If your date is available, you'll be taken to the certificate customization page.
Customize Your Certificate: Choose the registry you want to dedicate and claim the day in (State, Country, or Worldwide). Next, fill out the simple details about the Bar Mitzvah, who your day honors, and choose the sex and color of the two main characters (people) displayed in the center of the certificate.
Preview and Complete Your Order: After you've finished customizing the certificate, click the Preview Certificate option to see how it looks. To finalize your order, click Continue to Checkout.
As soon as your order is completed, your dedicated day will be immediately recorded in the official International Day Registry database. You'll also receive instant access to your exclusive dedication page. This allows you to get started on personalizing your celebratory Bar Mitzvah page while you wait for the certificate to arrive in the mail.
If your Bar Mitzvah date is available, CONGRATULATIONS! Don't miss the opportunity to claim it. Once it's gone, it's gone—that's one of the things that makes that day so special.
Start Here - Enter the Date of the Bar Mitzvah: