Own Your Special Day by State, Country or Worldwide
At MyDayRegistry, you can register a day that's special to you or a loved one by state or country, or choose to stake your claim in the exclusive Worldwide Registry. After registering the day of your choice, your exclusive title and ownership rights are recorded in the International Day Registry to ensure there is only one owner per day.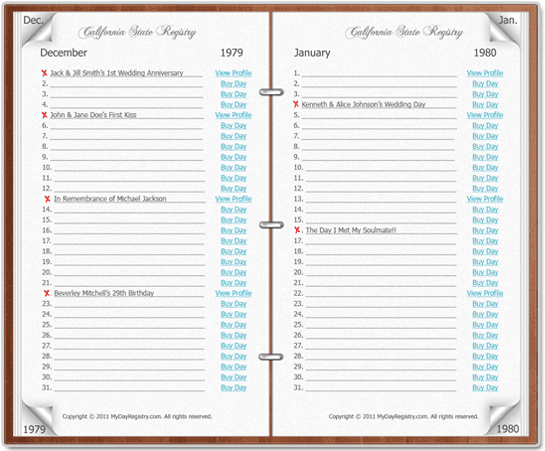 Registering your special day in the State Registry allows you to claim ownership of that day in any one of the 50 states. No one else can claim that day in that state! Registering your special day in the Country Registry makes you the sole owner in the country of your choice. No one else can register that day in that country!
When you choose to register your special day in the Worldwide Registry, you become the exclusive international owner of that day—the most prestigious level of ownership available.
Whether it's the state you got married in or a country that holds special memories for you or your loved one, claiming ownership of a special day by state, country or worldwide is a great way to add more meaning to an already thoughtful gift!
The Perfect Gift for Any Occasion
My Day Registry is one of the most unique, thoughtful and personalized online gifts the Internet has to offer. Whether you're looking for a heartfelt anniversary gift or something special for that hard-to-buy-for man in your life, dedicating a memorable day in their name makes for the perfect gift for every occasion!

Thank you so much for making my first anniversary unforgettable! Being such a romantic, I'm often looking for gift ideas that are unique and come from the heart. So when I was looking for the ultimate first anniversary gift for my sweetie, I found it on your site.
I bought our anniversary day and created a profile highlighting pictures from our wedding day and trips we shared our first year together as a married couple. I added our song "Lucky" and presented this all to him on our anniversary. He was so touched he literally had tears in his eyes and gave me a huge hug and kiss saying it was the sweetest gift I could have ever given him... it was the day he married his best friend, his partner, his soul mate.
Steve & Anna Adler | Albany, NY
Register Your Day Today!!